See series Isaiah II
Isaiah 40:1-11 "Declare the Good News"
Isaiah wrote beginning in 740 B.C. Recall the situation of Judah and Israel at this time.
• In 722 BC Israel was destroyed by Assyria. Isaiah will prophesy until about 680BC. During his time Jerusalem was under siege by the Assyrian army. Towns were being destroyed all over Israel and Judah.
40:2 Some might say that we get comfort from looking inward and prescribe quiet meditation in which you seek to empty your mind of all thoughts. Others teach that we just have to search out God to find peace. Use this section of Scripture to describe how God conveys comfort to us.
• 40:2 "speak to Jerusalem" He wants it to be spoken in his Word.
40:2 Who would be included under the command to speak comfort to Jerusalem?
• The Word for Speak is plural.
• These words are fulfilled by John the Baptist, called by God to preach as a prophet.
• Isaiah and all others called by God into the representative ministry do this.
• All believers also do this with the universal priesthood.
40:2 Explain how this guides our mission as a congregation and our vocations as individual believers.
• 40:2 "speak to Jerusalem" He wants it to be spoken in his Word.
Describe what message is given to offer comfort:
• The Lord had given double payment for all Jerusalem's sins.
• Ro 5:20 But where sin increased, grace increased all the more,
• This is the gospel. God forgives our sins and Jesus paid the price we deserved.
• We receive this freely from the hand of God.
The description in 40:3-5 is that of a herald who makes the way ready before a king. Describe that herald's work, his audience, and what makes his work worth-while.
• Every obstacle is to be brought down. All mankind will see God's glory revealed. This ultimately will happen on the last day.
• It is worth it because the glory of the Lord will be revealed. When John the Baptist fulfilled this before the coming of the Messiah, God's glory was revealed in the person of Jesus and his redeeming work.
40:6 Even the best of mankind is fading like grass. When do you and I need that reminder?
• Whenever we take pride in human strength or wisdom.
• Israel would look to other nations for help. Assyria and Babylon after them would pride themselves in their powerful empires. Kingdoms come and go.
"The breath of the Lord blows on them." Agree or Disagree: "the devil causes all bad things."
• God takes credit even for the calamity and the struggles and destruction this world faces.
• He is in charge. He isn't responsible for evil, but he does send judgment and testing. He causes life to end.
• This shouldn't terrify us, but remind us where we need to turn for forgiveness, strength, and hope.
40:8 What stands in strong contrast to mankind's glory?
• In a message of glimmering hope for mankind is the enduring word of God. Both his law, but also his gospel is enduring. When he has good news for Jerusalem, she can be sure it will be fulfilled.
40:9 "You who bring good tidings" all evangelists fit this title. What is the command?
• Go! "Here is your God!" The evangelist might have earthly reason to fear but is told to shout out the wonders of the true God.
40:10-11 Describe the two-fold picture of the coming of God.
• He comes both to judge and to save. He is a powerful God who rules and brings down his enemies, but a loving Shepherd who is gentle, gathering his flock and closely tending to the young.
Review 40:1-11
Recall the situation in ancient Israel at this time. Share the events of today which should make us feel like we are mere grass which withers and falls.
Describe the good news.
Identify what motivates us to share the good news.
Describe the mode of our evangelism efforts.
Share some eye-opening truths which add urgency to the spread of the gospel.
Find at least three times this section clearly points to the work of Christ.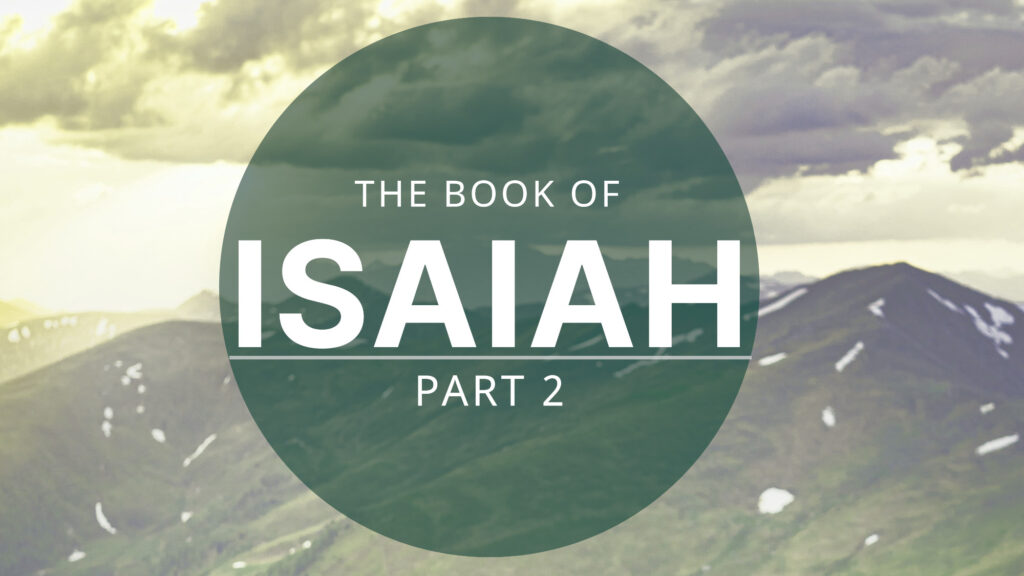 Podcast: Play in new window | Download
Subscribe: Google Podcasts | RSS