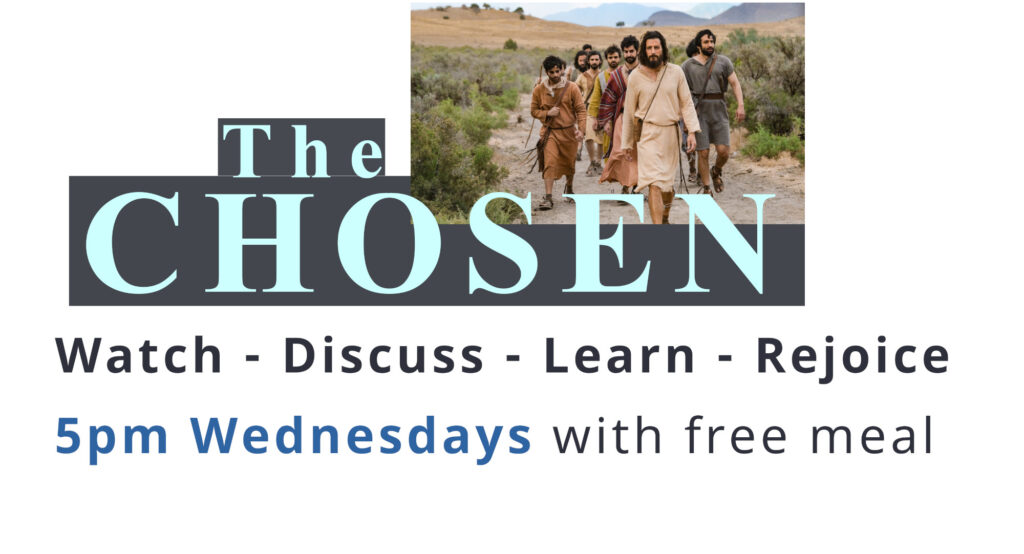 Have you seen the TV series "The Chosen"? If you have, you can probably guess why it's so popular. It has a compelling story with interesting character development. But how closely does it follow the Bible and what can we benefit from it?
Join us on Wednesday evenings for a free meal followed by a watching and group discussion of "The Chosen."
5pm Wednesday evenings (see calendar or schedule below)
204 W. Airport Rd. Payson, AZ
Everyone is welcome.
Free on-site babysitting for children too young to join the rest of their family during the video.
To help us plan with meals & babysitting, please indicate the number of those attending on this online tally.
Schedule
11 OCT 2023, WED 5 – 7pm "The Chosen" (Watch & Discuss)
8 NOV 2023, WED 5 – 7pm "The Chosen" (Watch & Discuss)
10 APR 2024, WED 5 – 7pm "The Chosen" (Watch & Discuss)
15 MAY 2024, WED 5 – 7pm "The Chosen" (Watch & Discuss)
12 JUN 2024, WED 5 – 7pm "The Chosen" (Watch & Discuss)
10 JUL 2024, WED 5 – 7pm "The Chosen" (Watch & Discuss)
11 SEP 2024, WED 5 – 7pm "The Chosen" (Watch & Discuss)
Previous discussion guides